Share This:







As a queer person of colour, it's difficult to find entertainment that is representative and respectful of both my culture and my LGBTIQ+ identity. It's difficult to find content that isn't just made to appeal to  white, heteronormative audiences. Going in to see Hot Brown Honey at Perth Fringe, I knew from the title I would be in for something at least somewhat relatable and with a few laughs, but I never predicted feeling so at home.
Presented by Briefs Factory, Hot Brown Honey, brings to light some really important social and feminist issues from an all female, all culturally diverse cast (with a touch of queerness of course). From topics such as "don't touch my hair" to "where are you really from?", I felt the show as a whole was so relatable. It's difficult to explain to people the micro-aggressions that happen to people of colour and queer people on a daily basis. The cast of Hot Brown Honey summed everything up so perfectly with a side dish of sass and a hot pinch of empowerment.
The show was unapologetically fierce, truthful without fault, hilarious to the point of tears, and so empowering . The mix of comedy and hip hop politics will make you laugh until you cry and until you question every preconception you've ever held. In an explosion of colour, culture and controversy, this is a must see for anyone who's ever struggled to find proper representation of themselves in the world.
Reflecting on the show afterwards, particularly around the word 'decolonisation', I thought a lot about my own heritage, being from a country which was colonised, with people who had to fight for their independence (#DecoloniseAndMoisturise). It made me realise how far we've come, for which I am truly grateful to my ancestors who fought for the rights I have today, but also how far we still have to go. Where is the radical love for one another we so openly preach but struggle to deliver on an daily basis?

I also wondered what white, straight audience members were thinking of the show and if they truly understood the impact it had on someone like myself. I think the show brought up some really great conversation starters and I hope people walk away from the performance more enlightened about the struggles people of colour face on a day to day basis. If you want to be entertained whilst learning and reflecting on what is culturally appropriate, you can't go past Hot Brown Honey!

Hot Brown Honey is playing until February 25. To buy tickets before they sell out, click here.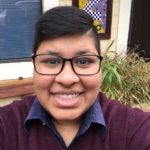 About the Author: Jaini Shah is a Perth based psychotherapist who specializes in LGBTIQ+ mental health and suicide prevention. They identify as an LGBTIQ+ person of colour and are passionate about supporting LGBTIQ+ human rights.
Share This: