Share This:







If you're late to the party, Moonlight is a talented film directed by Barry Jenkins based on the play In Moonlight Black Boys Look Blue. It has received a lot of buzz since its release in late 2016, and even more so since it won Best Motion Picture at the 74th Golden Globe Awards recently, the first all black cast, queer film to do so.

The soundtrack is orchestral, not something most would expect if they're about to watch a film set in a ghetto of poverty, violence, and an inescapable drug culture. The film was shot in a unique way with a very shallow depth of field making it feel unnerving, vulnerable, and personal. This is because director Barry Jenkins is taking you on an extremely tender and genuine coming-of-age queer journey, portrayed through the main character Chiron.
This film doesn't cheapen itself by following a predictable narrative. The queer characters did not die in the film because they were queer. They were not used as a prop for the dangers of STIs or mental health. I'm not saying that queer people aren't affected by serious health concerns. I'm arguing that queer characters are often one-dimensional and lack personality or interactions that are their own. They are often  over simplified and aren't represented as engaging characters with the same level of depth as their heterosexual or white counterparts. Because of this, regardless of the Awards it has received, Moonlight will always be a winner.
Personally, watching this movie was an extremely heartfelt experience because I could watch queer characters who were complex, multifaceted, and had rich personalities.  It is not often you can find movies that also portray queer people of colour as – just that – people. And this film doesn't beat you over the head with their queerness, or their blackness, it just represents its characters as real human beings. I found that this film brought out powerful visceral experiences around survival, masculinity, resilience, and vulnerability. I feel that that is important for the many, many people that find themselves intersecting multiple marginalised communities who may not even realise that parts of their stories could be told in tender and intuitive films.
If you like Moonlight, you might also be interested in: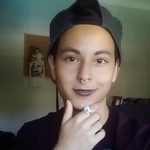 About the writer: Logan is queer, transgender, a feminist and a person of colour. He uses he/him pronouns. He is currently completing his graduate diploma of sexology and hopes to go onto clinical psychology.
——————————–
Share This: